World Water Week Deep Dive: Changing invisible norms - the key to inclusive water and WASH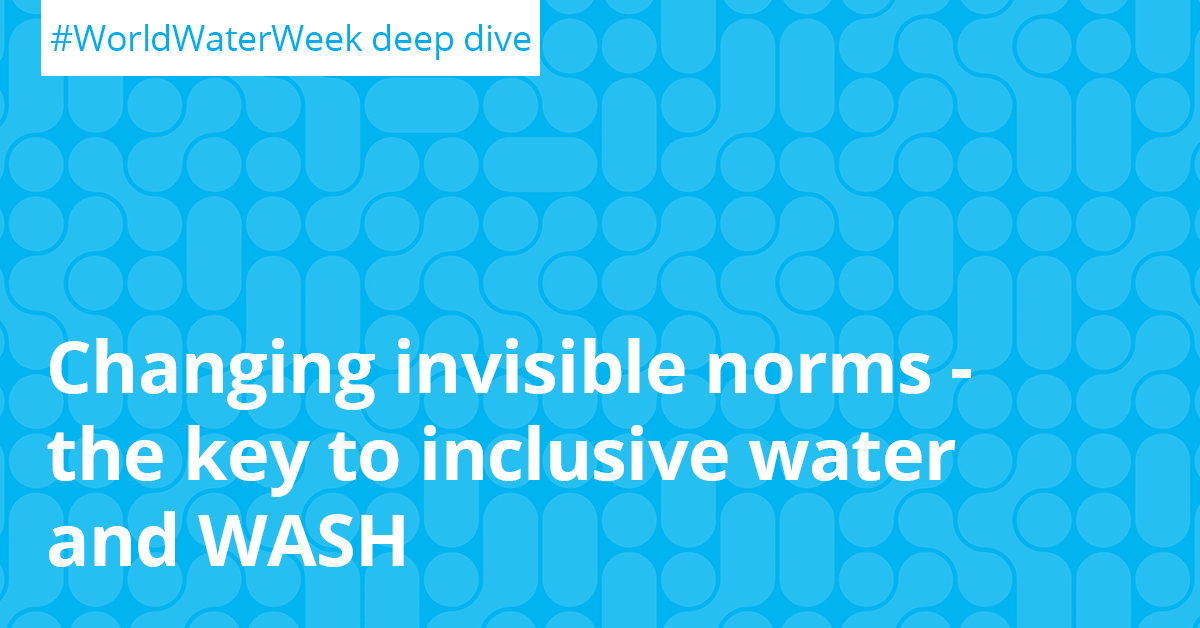 Building resilient communities, systems and economies means starting where change needs to happen–with people.
At World Water Week 2022, Water for Women and partners shared examples of how changing harmful norms is critical to ending inequalities, creating inclusive systems, and enabling equitable access to, and use of, sustainable water and WASH services through their session, Changing invisible norms -the key to inclusive water and WASH.
The session brought together insights and learning from Water for Women partners across the Asia Pacific region including Australian Department of Foreign Affairs and Trade, iDE, University of Technology Sydney - Institute for Sustainable Futures, Plan International, SNV Netherlands Development Organisation and WaterAid.
Many fantastic resources were shared which are listed below and three new Water for Women publications were also launched.
If you missed the session, the recording is now available.
To catch the highlights pf this session, you can see the live twitter thread that accompanied the session
Session Overview
People's beliefs, values and practices are influenced by gender and social norms, which in turn shape the value given to water and WASH services. As these norms are so entrenched in families, communities, workplaces and institutions, they remain largely 'unseen'. By surfacing norms that are considered harmful, we have the opportunity to shift them to create greater gender and social equalities in people's lives and livelihoods, of which equitable access to, and use of, water and WASH services is paramount.
Only by valuing all people equally can we truly value water - how we access it equally and how we use it. The Australian Government's Water for Women recognises the central role that gender and social norms play in either reinforcing or shifting inequalities. This session shares innovative approaches from Asia and the Pacific to address norms that harm women and marginalised groups, including people with disabilities, sexual and gender minorities and people living in poverty.
In particular, two approaches are highlighted – meaningful engagement with rightsholder organisations for strengthening water and WASH systems and Do No Harm approaches to prevent and respond to gender-based violence which can be exacerbated by water security issues and limited WASH access.
Session resources
Publications launched during this session include:
Other resources shared:
Our thanks to all involved in creating and delivering this insightful and important session.
Opening remarks were delivered by Christine Clarke CSC, Australia's Ambassador for Women and Girls.
Setting the scene: The importance of gender and social norms change in the water and WASH sectors: Joanna Mott (Water for Women) and Sue Cavill
Presentation 1: Changing harmful norms together with rights holder organisations in Indonesia – the key to inclusive WASH: Novika Noerdiyanti and Wahyu Triwahyudi (Yayasan Plan International Indonesia) and Melita Grant (University of Technology Sydney's Institute for Sustainable Futures)
Presentation 2: Addressing gender-based violence through rural WASH systems: partnering with local rights groups in Papua New Guinea: Sophie Mangai (East Sepik Council of Women, PNG), Enid Kupe, Glenda Yukana and Chelsea Huggett (WaterAid)
Presentation 3: Utilising the 'shock' of COVID-19 to disrupt gender norms in WASH related care and domestic work in Nepal: Sabitra Dhakal and Bandana Sinha (SNV Nepal) and Claire Rowland
Presentation 4: Normalising pro-poor markets for WASH: Tyler Kozole (iDE Cambodia)
These presentations were followed by an interactive panel discussion with Novika Noerdiyanti, Yayasan Plan International Indonesia, Ugyen Wangchuk, SNV Bhutan and Jo Crawford, International Women's Development Agency with Joanna Mott from Water for Women facilitating.
If you would like to know more about this session, please contact us.