Water for Women and WASH Reference Group shares insights from World Water Week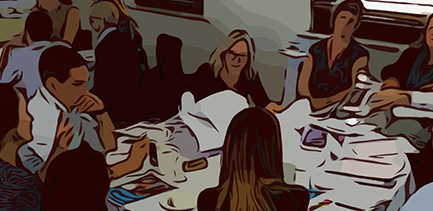 On October 3 2019, an industry-wide Learning Day was held in Melbourne to share insights from the Stockholm International Water Institute's World Water Week 2019 and explore implications from key presentations for Australian WASH sector organisations. The Learning Day was also a valuable opportunity to strengthen networks and relationships between Australian agencies working in inclusive WASH, water resources and other related development sectors.
World Water Week (WWW) is the annual focal point for the globe's water issues. This year representatives from the WASH Reference Group, the Australian Government funded programs, the Water for Women Fund and the Australian Water Partnership attended in Stockholm as Australia – water partners for development. The theme for 2019 was Water for Society: Including All (Leaving No one Behind).

World Water Week
The overall theme resonating throughout WWW was the need for improved governance and collaboration to drive better water stewardship. This is more urgent than ever, due to the existential threats that climate change poses on global, country and local levels. There was also recognition that water is a critical connector of people and central to the achievement of all Sustainable Development Goals.
The importance of strengthened collaboration between all stakeholders to improve impact and ensure no one is left behind was emphasised. Finding opportunities to operate outside 'silos' and identify solutions by working together was seen as an important way forward. Therefore, effective and sensitive partnerships for coordinated planning, policy, programming, together with gender and social inclusion (GSI)-disaggregated data collection and monitoring are key to ensuring more equitable and sustainable outcomes for all. These outcomes will not be achieved without the empowerment of women, indigenous people, people with disabilities and other marginalised groups. Other themes relevant to the WASH agenda also emerged throughout the week.
Following WWW 2019, the WASH Reference Group and Water for Women Fund came together to deliver a Learning Day at the Queen Victoria Women's Centre Trust. The event was attended by more than 40 professionals, representing DFAT, a wide range of civil society organisations and research institutions, the Water for Women Fund, Australian Water Partnership and other professionals working in the WASH sector.
Sharing Insights
Opened by Mr Gerard Cheong from the Water, Sanitation and Hygiene Section, Department of Foreign Affairs and Trade and Prof Juliet Willetts, Research Director from UTS' Institute for Sustainable Futures, the day provided an opportunity to reflect, discuss and debate a range of topics highlighted at WWW.
"There's a strong appetite for gender and socially inclusive WASH. We are building good evidence for its importance. We need to find common platforms to meet the challenge of increasing water scarcity & ensuring strong water management - we need to make it last."
– Gerard Cheong, DFAT WSH


"There were over 20 sessions in which Australians were involved at Stockholm this year. Sessions were developed and delivered in collaboration with different stakeholders and partners in the sector. This process of collaboration is what makes it truly valuable"
- Prof Juliet Willetts, ISF-UTS

"I was inspired by the number of young men and women committed to creating positive change around the globe, their willingness to work together to find solutions in a resource constrained environment. It gives me hope for the future."
- Dr Alison Baker, Fund Manager, Water for Women Fund
Topics discussed during the Learning Day included a number of themes and examples drawing from the experiences at WWW:
1) The inclusion of women, youth and people with disabilities in WASH programming
The need to change social norms, attitudes and behaviours was explored both at WWW and during the Learning Day, recognising there is no one solution but a diversity of scenarios and approaches to improve the status of women, PWD and other marginalised communities – solutions need to account for local context.
2) Do No Harm in WASH programs
For WASH, having strategies in place to minimise unintended consequences of actively participating in WASH decision making and service delivery is essential for ensuring that women and many marginalised communities have access to appropriate WASH services.
3) Climate change and social inclusion in WASH
Stockholm WWW provided a rich set of opportunities to explore different aspects of climate change. The need to integrate climate science into water and sanitation policy, explore mitigation actions of sanitation, understand the links between climate change, health and WASH were select highlights. Following the presentation, Learning Day participants had an opportunity to explore how they could start to integrate climate change into their work, as well as identify gaps and areas where collaborative work would benefit the sector.
A detailed report on the event including links to resources will be published in the coming month.
The day culminated in a lively discussion on the implications of findings in these areas for the contribution of Australian aid in the region to inclusive WASH.
Throughout the day, opportunities to forge new relationships with key partners in the Australian WASH sector and to strengthen existing relationships was consistently evident. The WASH Reference Group, Water for Women and the Australian Water Partnership are all committed to improving learning and practice in the water resource and WASH sectors, particularly integrating a Leave No one Behind perspective.