Preparing communities in Papua New Guinea for the threat of COVID-19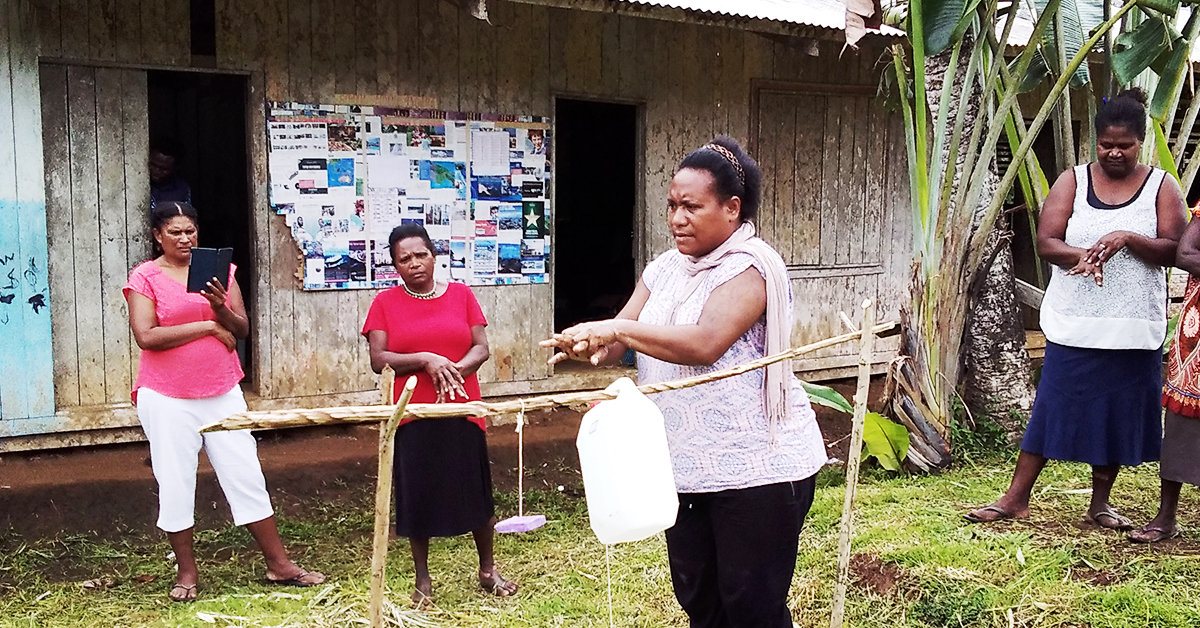 Live and Learn Papua New Guinea staff provide advice on the construction of simple handwashing devices and the correct handwashing steps to teachers in the Autonomous Region of Bougainville (Plan PNG)
In March 2020 Papua New Guinea (PNG) reported its first case of the coronavirus, COVID-19. Like most Pacific nations, an under-resourced health system with limited medical staff and supplies makes PNG highly vulnerable to this pandemic. With a population of over 8 million people and only an estimated 5,000 hospital beds, it is vital to prevent hospitals in PNG becoming overwhelmed with COVID-19 cases.
Prevention in PNG is key. With support from the Australian Government, through their Water for Women project, Plan International and Live & Learn moved rapidly to respond to the threat, working with local authorities to support response efforts, particularly in ensuring that people were adequately and correctly informed about what COVID-19 is and what they could do to reduce its spread. The Project's support has also extended to the provision of handwashing facilities in schools and handwashing demonstrations in communities.
A locally relevant response is important when it comes to health emergencies, teams identified risky social behaviours prevalent in PNG, such as sharing betel nut lime and spitting betel nut juice in public places. The project quickly developed simple, contextualised posters, stickers, banners and handouts with messages in English, local languages and Tok-Pisin, and also ensuring that messaging was inclusive.
These materials also addressed the five key COVID-19 prevention steps promoted by World Health Organisation (WHO) and Government of PNG and the additional, secondary risks created by restrictions in movement and increased community anxiety, particularly related to family violence and protection.
In New Ireland Province, Live & Learn provided COVID-19 training for ten schools, including construction of basic hand-washing facilities and soap. Awareness materials were distributed around the Provincial capital, Kavieng, at the local post office, police station, airport, and in almost every shop in town. Over 1,500 Posters and stickers were printed and distributed locally and 7 large banners highlighting the importance of handwashing and social distancing were displayed around Kavieng town.
Live & Learn PNG has also been active on Facebook, a popular social media platform in PNG, reaching more than 14,000 people with COVID-19 messages.
In the Autonomous Region of Bougainville (ARoB), the Plan PNG project staff have provided similar COVID-19 messaging and materials to 33 schools and 3 clinics, distributing over 2,250 information materials in the process and providing handwashing demonstrations.
Head Teachers were excited about the innovations introduced to support proper handwashing in their schools, not previously having budget to build permanent hand washing stations which would require plumbing. They have appreciated learning how to construct and use the tippy tap, which use locally available materials, are easy to build and conserve water.
"All teachers have heard of handwashing steps but do not know how to do it correctly. The handwashing demonstration was appreciated by all."

A teacher in ARoB
In both ARoB and New Ireland Province, project staff continue to work with their government counterparts to support communities, schools and clinics to improve their understanding of, access to, and maintenance of water, sanitation and hygiene (WASH) facilities both in the anticipation of COVID-19 and for general health improvements. A WASH response is a COVID-19 response.
Through Partnerships for Recovery, Australia is supporting COVID-19 work across the Pacific to secure our region's health, wellbeing and stability in these challenging times. Through Water for Women, not only are we delivering safe, equitable and sustainable Water, Sanitation and Hygiene (WASH), we are also building, healthy, inclusive and resilient societies.
No login? Please enter your details below to continue.