Ministry of Health awards Water for Women Indonesia partners for community-based total sanitation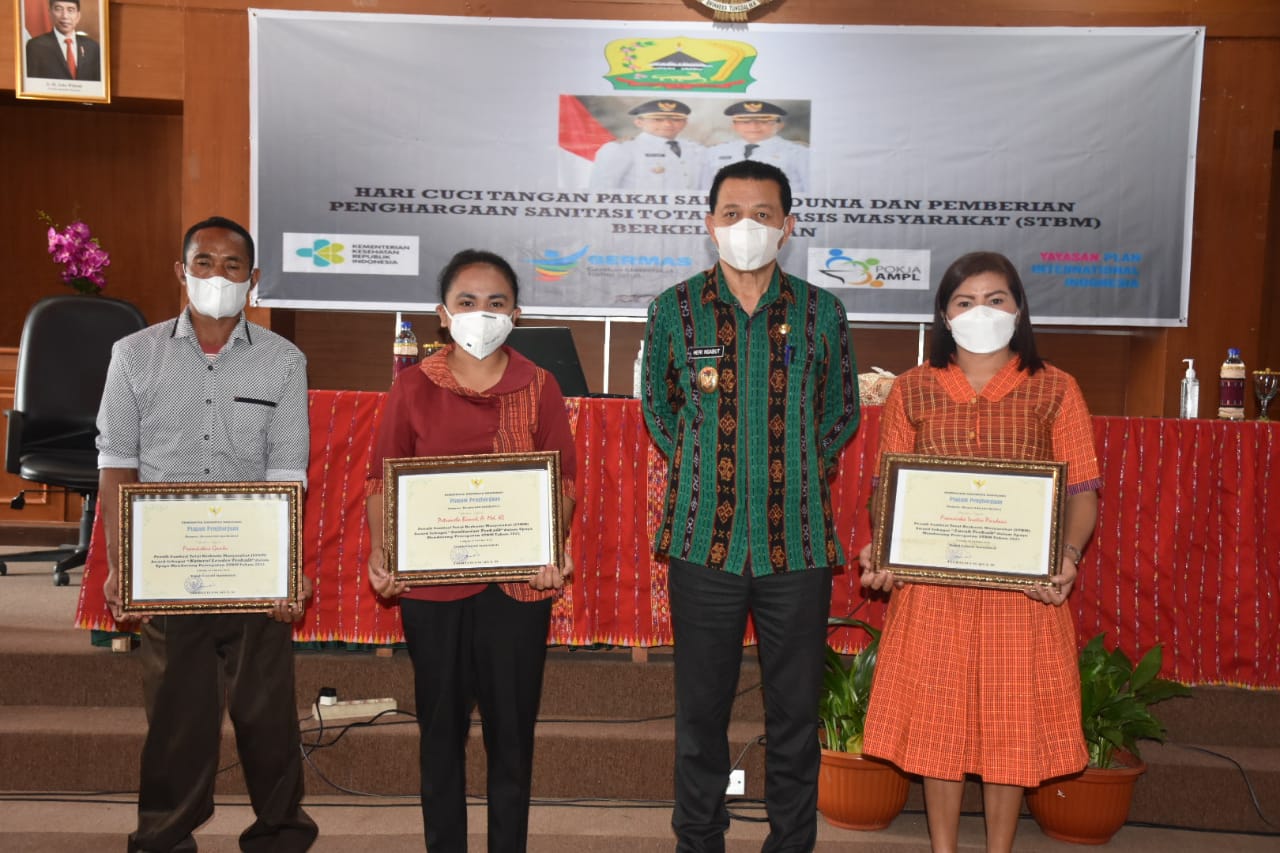 In Manggarai district in Nusa Tenggara Timur Province, where Water for Women's WASH and Beyond - Transforming Lives in Eastern Indonesia project is being implemented by Plan International Indonesia, several Ministry of Health awards were presented to project partners on Global Handwashing Day, 15 October 2021. From left: Fransiskus Gantu, Petronela Barut, Heribertus Ngabut, S.H (vice-regent), and Fransiska Inatia Pardan. (photo: Dok / Yasan Plan International Indonesia)
Indonesia's Ministry of Health has recognised the exemplary community-based total sanitation (STBM) efforts of Manggarai district in Nusa Tenggara Timur Province, and four individuals who partner with Plan International Indonesia to deliver Water for Women's project, WASH and Beyond - Transforming Lives in Eastern Indonesia. The annual awards were presented during the national Global Handwashing Day celebrations, which were held virtually on 15 October 2021.
One of only five districts to be recognised, Manggarai district received an award for Best Innovation for Supply, acknowledging the district's commitment to equitable and inclusive water, sanitation and hygiene (WASH) services and programs. Through the Water for Women project, organisations of disabled persons, or DPOs, have been engaged to support household monitoring and ensure WASH accessibility for people with disabilities in Manggarai district. Examples of simple innovations that have been implemented as a result include households creating support railings and toilet seat risers from locally available materials like bamboo to make toilets more accessible. The head of the district was also presented an award for their role in accelerating the STBM program, achieving open defecation free (ODF) status.
An award for Best Natural Leader was presented to Fransiskus Gantu, a person with a disability from Wae Belang village in the Ruteng sub-district. Fransiskus joined the STBM program team in 2019. He visits households to speak about STBM, monitor the facilities and promote actionable innovations at the household level to better accommodate the needs of people with disabilities. He also actively participates in village-level discussions to ensure greater accessibility to public toilets for people with disabilities.
Petronela Barut, the sanitary officer from Ketang Health Centre, has worked in STBM for more than six years. Ketang Health Centre provides health services for 10 villages, including one situated in a remote area more than 15 kilometres away. Petronela received an award for Best Sanitary Officer for her dedication to ensuring all who attend Ketang Health Centre have access to safe sanitation. Since the first initiation of the STBM program in 2018, Petronela and her team have successfully promoted toilet construction and use through advocacy at the village and sub-district government levels.
Fransiska Inatia Pardani, Head of Karot Village in Langke Rembong sub-district, also received an award for Best Village Leader. This award recognises Fransiska's hard work to end open defecation, which had been widely practiced in the village previously, and her action to ensure all villagers have access to an improved toilet at home.
Although presented as part of the national Global Handwashing Day celebrations, the Ministry of Health awards have also highlighted the wider value of safely managed sanitation to public health, wellbeing, the environment, and the long-term, sustainable socio-economic benefits it brings. Manggarai district's success at this year's awards has also further motivated the district to progress the goal of 100 percent handwashing access by the end of 2021.
Water for Women partners with Plan International Australia and Plan International Indonesia for the project, WASH and Beyond - Transforming Lives in Eastern Indonesia, which aims to benefit over 450,000 people with improved health, gender equality and wellbeing through inclusive and sustainable WASH. The project is working in rural and urban areas of Manggarai district in Nusa Tenggara Timur Province and Sumbawa district in Nusa Tenggara Barat Province, Indonesia.
Water for Women is the Australian government's flagship WASH program and is being delivered as part of Australia's aid program over five years, from 2018 to 2022. Through Water for Women, Australia is investing AUD118.9m to deliver 33 WASH projects and research initiatives, which aim to directly benefit 2.9 million people in 15 countries across South Asia, South East Asia and the Pacific.