Ms. Soutieng is empowering women through water access with her business in Cambodia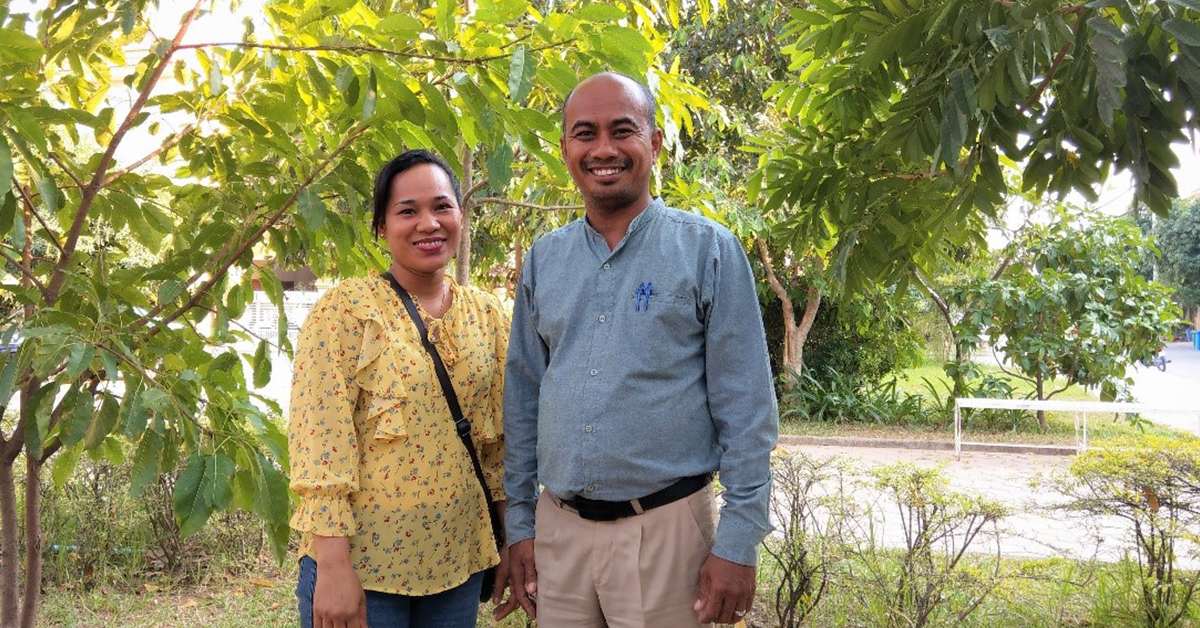 Ms Soutieng left her office job three years ago to give back to her community, she now co-owns a piped rural water supply business in Cambodia with her Husband. Working with Thrive Networks is helping her achieve her dream of growing her business to give more people access to clean water, [and bring water] to the most vulnerable households, focusing on people with disabilities and chronic illness." (Edwina Pickering)
More people with access to clean water, especially for the most vulnerable households - that is what Ms. Meach Soutieng dreams of for the future, as she looks to grow her business.
Ms. Soutieng left her office job three years ago to give back to her community, she now co-owns a piped rural water supply business in Cambodia.
Working in an office job as an accountant in Phnom Penh, she realised that she wanted to do something different, something that would give back to her community. In her local area, one issue she had noticed was the lack of clean water that was available for households, particularly poor and vulnerable households in the area. This was something she felt determined to change.
Over the course of three years, working with investors and other NGOs, Ms. Soutieng and her family were able to establish a rural water supply business, which she now runs with her husband.
Through this work, she met Thrive Networks.
Supported by the Australian Government, through Water for Women, our partners are working to support women's empowerment, leadership and decision-making on water and sanitation issues in their communities. In Cambodia, our partner Thrive Networks partnered with Cambodia Water Association (CWA) to train 20 female water entrepreneurs, including Ms. Soutieng, to improve water service delivery and increase women's involvement in WASH business. The aim of the training was to increase business knowledge, skills and open the market to a new generation of WASH service operators, with more gender equity.
Before the training, Ms. Soutieng struggled with technical knowledge and was not able to provide clarification to customers on proper water usage. Sometimes, she experienced lack of cooperation from the local authorities because of her knowledge and her gender. However, since the training and with ongoing support from Thrive, she has felt emboldened to build cohesive relationships with customers and authorities.
For her, the training has been invaluable and positive. She has been able to increase her knowledge to serve her business needs, and importantly, has connected with her peers and learned that they faced similar difficulties, as women. This network of women entrepreneurs have since stayed in touch with each other, providing support and advice to one another while working in rural piped water supply.
Seeing how she can contribute to increasing access to clean water and improve health and wellbeing has been a motivator for Ms. Soutieng. She believes that with safe water access, poor and rural women can spend less of their day looking for safe water for their day-to-day needs, and more of their day doing other important pursuits, like finding paid work to support themselves and their families.
The value of water is about much more than its price – in communities, households, schools and workplaces, water means health, hygiene, dignity, productivity and more.
Throughout March, for International Women's Day and World Water Day, we are celebrating the value of women and the value of water. Both are critical to building healthy and climate-resilient communities.
No login? Please enter your details below to continue.