Leaving no one behind: leveraging targeted subsidies to close the sanitation gap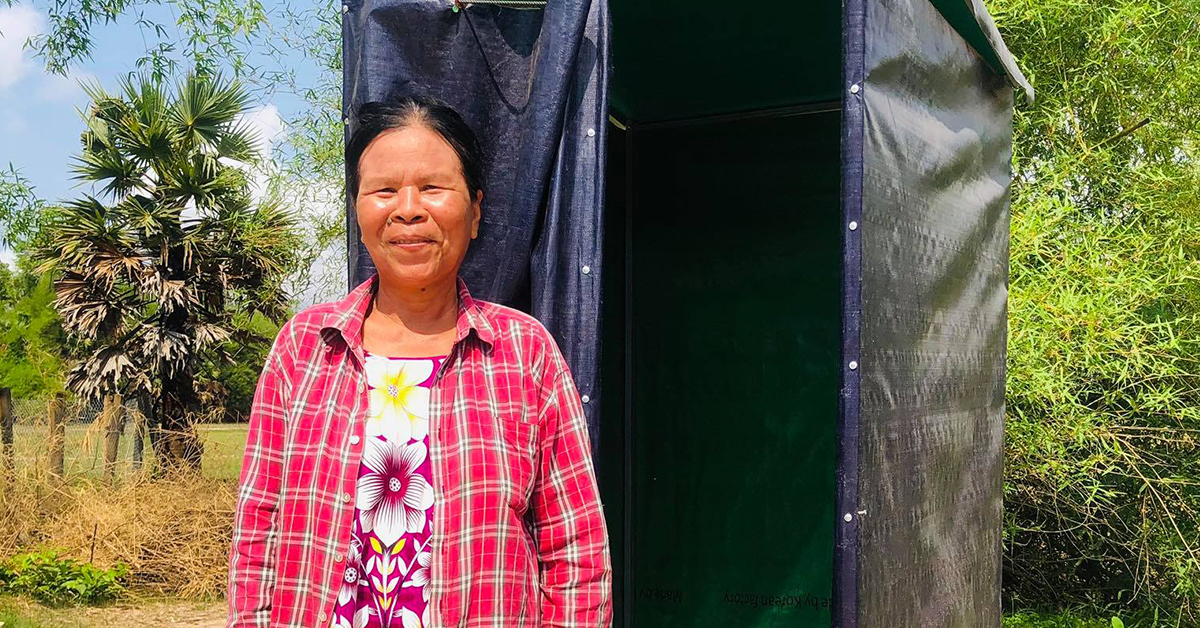 "I wouldn't be using a toilet if I had to purchase without the subsidy" says Ms Va Sophe, standing proudly outside of her newly built latrine. (Seng Liem, iDE)
Until recently, Ms Va and her daughter have had to rely on the kindness of neighbours sharing their toilets or sometimes even resort to defecating in an open field nearby.
Ms Va. lives in Prey Veng Province, Cambodia. Hers hasn't been an easy life, left alone with her daughter after her husband passed away twenty years ago her, it was up to her to single-handedly support her family with a job as a construction worker. At age 55 however, health problems have meant that she can no longer work in construction and she now relies on small jobs and her daughter for income.
Buying a toilet for their home, a significant investment in rural Cambodia, had always seemed out of reach for Ms. Va and her daughter.
This all changed in February, when she met an iDE sales agent selling partially subsidised toilets and latrine shelters for households that are registered by the government as poor. This work is part of their Water for Women project, Cambodia Water, Sanitation and Hygiene Scale Up Program - WASH-SUP2, which is focusing on private sector delivery to achieve SDG6 - sanitation and water for all. Their work has so far reached 142,000 people with basic or safely managed sanitation!
iDE's work incudes targeted subsidies for poor and vulnerable households. Being classified as "IDPoor" Ms. Va found out that she qualified for a discounted price for a latrine, which was now in her budget range - she leapt at the opportunity and was finally able to purchase her very own toilet. Ms. Va is one of over 15,000 IDPoor homeowners who have been able to purchase their first latrine with the support of an iDE targeted subsidy.
As Cambodia continues to approach full sanitation coverage, there is a risk that the poorest are left behind. Targeted subsidies are one financial mechanism that can allow for increased affordability of toilets for these households without distorting markets.
World Toilet Day is celebrated on November 19th.
On World Toilet Day, we celebrate the role of safe, accessible toilets as a building block of healthy and resilient communities.
But World Toilet Day is not just about toilets, it is also about the important role of the systems and people that surround and support adequate toilets to ensure they are sustainable and can withstand the impacts of climate change.
Water for Women partners are working hard to ensure all people within communities have access to safe and sustainable sanitation.
No login? Please enter your details below to continue.