Knowledge, attitude, practice, barrier, & motivation among the rural people of Bangladesh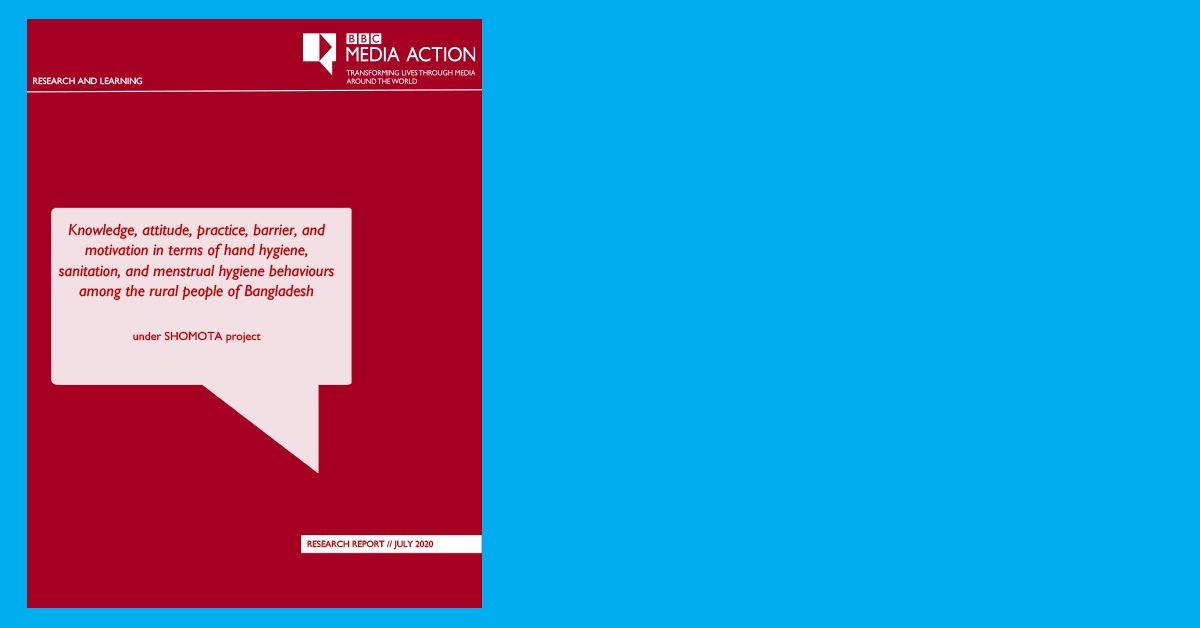 Knowledge, attitude, practice, barrier, and motivation in terms of hand hygiene, sanitation, and menstrual hygiene behaviours among the rural people of Bangladesh under SHOMOTA project
BBC Media Action conducted in-depth formative research to gain a nuanced understanding of existing knowledge, practices, attitudes and social norms around WASH and menstrual hygiene practices of women and girls in rural Bangladesh. BBC Media Action is an implementing partner of the SHOMOTA project (The Strengthening Gender Equality and Social Inclusion in WASH in Bangladesh) led by World Vision. The findings of this study aim to support the development of communication materials for community volunteers to use in order to encourage safe WASH and menstrual hygiene practices amongst the communities they serve.

Using communication to shift people's practices requires a sound local understanding of people's perceptions, attitudes, concerns, beliefs, knowledge, practices and the wider environments in which they live, study and work. It also involves understanding exactly why they are not changing their behaviour and what may enable them to do so. The research aimed to identify the barriers and enablers to healthier WASH and nutrition behaviour and how these barriers could be addressed through effective communication materials.

The research looked particularly at hand hygiene; practices around open defecation, access to latrines and waste disposal; and menstrual hygiene in Gaibandha and Satkhira district. Both the male and female community members, persons with disabilities and older people were included to understand the hand hygiene and sanitation practice. Adolescent girls, and parents of the adolescent girls including adolescent girls with disability and their caregivers were interviewed to understand menstrual hygiene management (MHM). Participatory rural appraisal (PRA) tools such as group discussions, in depth and paired depth interviews; transect walk and social mapping exercises were conducted in October 2019.
Authors: Arani Reza Chowdhury, Fariha Rahman and Mahmuda Hoque


Editor: Sally Gowland
BBC Media Action, the international development organisation of the BBC, uses the power of media and communication to support people to shape their own lives. Working with broadcasters, governments, other organisations and donors, we provide information and stimulate positive change in the areas of governance, health, resilience and humanitarian response. This broad reach helps us to inform, connect and empower people around the world. We are independent from the BBC but share the BBC's fundamental values and have partnerships with the BBC World Service and local and national broadcasters that reach millions of people.

The content of this report is the responsibility of BBC Media Action. Any views expressed should not be taken to represent those of the BBC itself or of any donors supporting the work of the charity.
This initiative has been made under the SHOMOTA project (The Strengthening Gender Equality and Social Inclusion in WASH in Bangladesh) led by World Vision under the Australian Aid-funded Water for Women (WfW) Fund.