Coping with COVID-19: grassroots emergency response in Jaipur and Bhubaneswar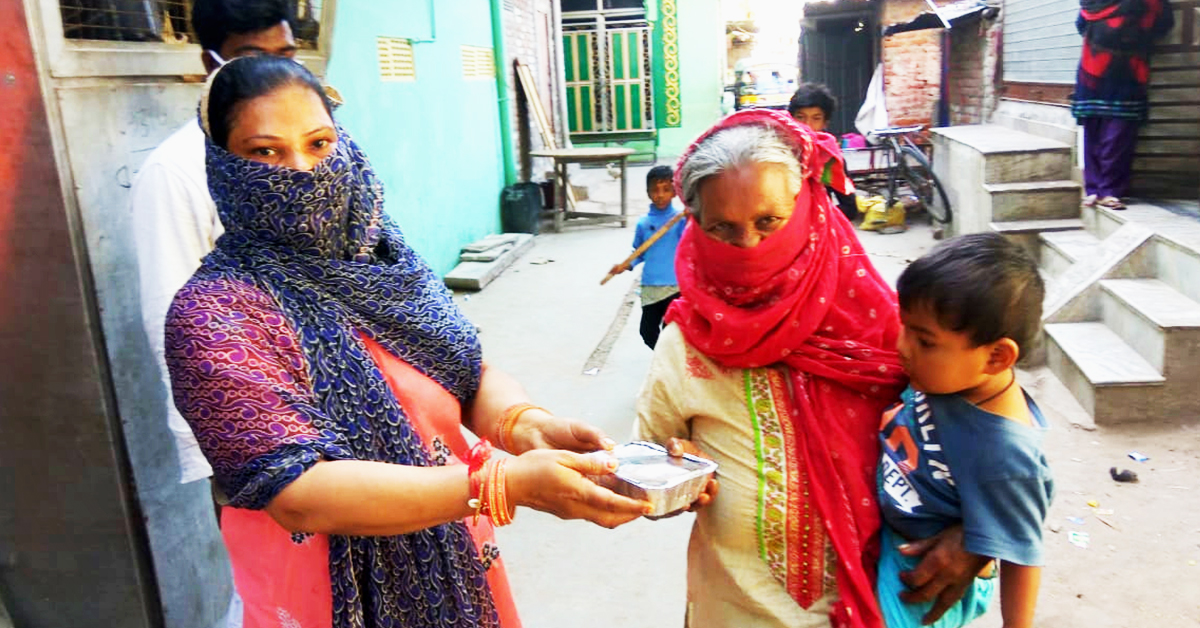 Rozi (right) accepts food from the mid day meal distribution in Jaipur (CFAR India)
Rozi lives in Bangali Basti, Jaipur. She is a member of CFAR's Single Window Forum (SWF). She, along with many in her neighbourhood earn a living as waste collectors or rag pickers, but COVID-19 very quickly cut off Rozi's only income source. The impact of the pandemic on urban poor has been substantial.
"If there is no work, there is no food. After the lockdown everyone managed for 10-15 days but soon the money finished and we could not buy food. With childcare centres also closed during lockdown even the children could not get food."
Since a nationwide lockdown was declared by the Indian Government, CFAR has not stopped. As part of their COVID-19 response. They have rallied to support communities like Rozi's who are facing no work, no income and little support.
Through their Water for Women project, Mobilising, facilitating andreplicating socially inclusive WASH initiatives in India's urban slums,CFAR and RTI already had established SWF and Community Management Committee (CMC) member networks, who swung into action immediately.
Faced with the challenges of this situation, these grassroots community leaders of Jaipur and Bhubaneswar realised that any response delayed is as good as response denied.
A COVID-19 response is a WASH response
With support from the Australian Government, CFAR has mobilised government WASH programs into vulnerable communities and is working with these community groups in Bhubaneswar and Jaipur to enhance livelihoods and produce affordable biodegradable sanitary pads. CFAR were able to quickly utilise its existing SWF and CMC structures as well as partnering with local, national and international (UNFPA, UNICEF, Water Aid) organisations in Bhubaneswar and Jaipur to develop an integrated systems approach to menstrual hygiene management during and beyond the pandemic.
In both cities, the SWF and CMC members formed part of the COVID-19 response initiatives, with cooked food, grocery and mid-day meal coupons reaching 32, 609. CFAR's focus on ensuring no one is left behind also meant that 5533 highly vulnerable families were linked to a ration scheme that they are specially entitled to. Members have been responsible for a range of initiatives, such as installing low cost, foot-pedalled community hand washing stations strategically placed outside childcare centres and linking health and WASH services to ensure waste management has been maintained throughout the lockdown.
These community leaders remain committed to efforts to help their communities in this great time of need, and with support from CFAR, they continue to influence and deepen the COVID-19 recovery process.
CFAR recently released a film about their work which can be viewed below.

Watch our film on how motivated community leaders are helping keep people safe from #COVID19 in Bhubaneswar, Odisha, by helping them adopt safe behaviours on social distancing and water and sanitation. The project is supported by @dfat, @_waterforwomen


---
Through Partnerships for Recovery, Australia is supporting COVID-19 work across in South Asia to secure our region's health, wellbeing and stability in these challenging times. Through Water for Women, not only are we delivering safe, equitable and sustainable Water, Sanitation and Hygiene (WASH), we are also building, healthy, inclusive and resilient societies.
No login? Please enter your details below to continue.