Centre for Advocacy and Research awarded for outstanding contribution to city sanitation
"This award has helped us to get recognised as waste recycling entrepreneurs. The products are sold through door-to-door sales and through local shops. We have now applied for a loan to set up a shop to scale up our business," Bidhulata Das, Jay Jagannath Self-Help Group President. (photos: CFAR)
Water for Women partner the Centre for Advocacy and Research (CFAR) India has taken out top honours at Bhubaneswar's Azadi Ka Amrit Mahotsav Week celebrations, receiving the Award for Outstanding Contribution to City Sanitation and recognised for their support of self-help group, Jay Jagannath, which received third prize in the Waste Entrepreneurship Challenge.
Azadi Ka Amrit Mahotsav or '75 Glorious Years of India's Independence' involves 75 weeks of nationwide celebrations beginning on 12 March 2021 and culminating on the 75th anniversary of Indian independence on 15 August 2023. In Bhubaneswar, a week-long waste to craft challenge and cultural festival from 27 September to 3 October marked the occasion and demonstrated the city's readiness to safely manage sanitation.
The Award for Outstanding Contribution to City Sanitation recognised CFAR's exemplary role in shaping the Safaimitra Suraksha, or 'Safety of Sanitation Workers' Challenge. Under the National Safai Karamcharis Finance and Development Corporation's (NSKFDC) Sanitation Entrepreneurship Scheme, CFAR supported 24 sanitation workers to secure a loan for procurement of mechanical cleaning equipment and safety tools, including two 2,000 litre cesspool vehicles mounted on 407 pick-up chassis. At the 4 October event, Bhubaneswar Municipal Corporation Commissioner Sanjay Singh presented keys to the vehicles to entrepreneurs Chandan Naik and Bandhan Naik. The corporation also entered into a service contract with them to kick-start the venture.
A 'saniwall' designed to track the weekly performance of sanitation services in each ward was also unveiled at the event. The saniwall is currently being installed in every ward office, and in the 22 wards covered by the Water for Women project, CFAR is supporting the community and stakeholder engagement efforts.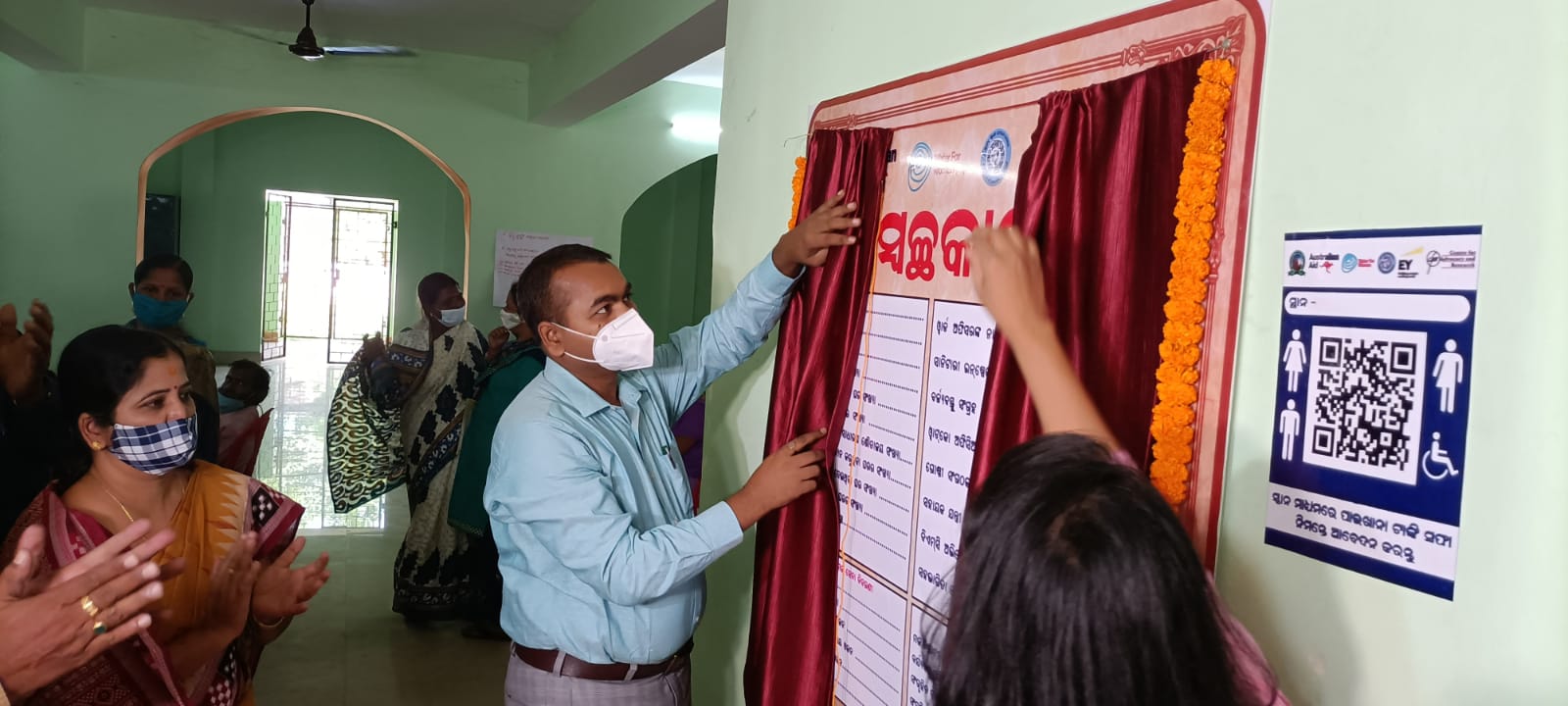 An innovative QR code service request system was also launched at the event, which aims to scale-up and streamline demand generation for mechanical desludging of septic tanks and pits across the wards. The QR code is being placed in each lane of the wards, where customers can use a smartphone to scan and open a google service request form. Once completed, Bhubaneswar Municipal Corporation will receive the form and CFAR's Single Window Forum will verify the details and coordinate the desludging service with cesspool operators. Operators will be promptly paid through a point-of-sale machine and customers issued a receipt.
CFAR's Award for Outstanding Contribution to City Sanitation followed their recognition earlier in the week as a driving force behind the Jay Jagannath self-help group, which took out third place in the Waste Entrepreneurship Challenge on 2 October for their innovative recycled crafts that turn waste paper, old pillow covers, plastic bags, cloth strips, grass and flowers into household products. CFAR helped the group secure Rs 10,000 as revolving funds to initiate this work and is currently assisting them with a loan application, which will enable the group to scale-up and sell products in vending zones established by the Bhubaneswar Municipal Corporation.
"We use grass to make brooms, cloth and waste paper to make bags and doormats, and plastic and flowers to make candles, wall hangings and gift boxes, which can be sold during festivals and special occasions," explained Laxmi Sahoo, Jay Jagannath secretary.
"This award has helped us to get recognised as waste recycling entrepreneurs. The products are sold through door-to-door sales and through local shops. We have now applied for a loan to set up a shop to scale up our business," added Bidhulata Das, president.
Water for Women partners with the Centre for Advocacy and Research (CFAR) and Research Triangle International India (RTI India) in reaching some of India's most at risk people with transformative WASH intervention programs.
Water for Women is the Australian government's flagship WASH program and is being delivered as part of Australia's aid program over five years, from 2018 to 2022. Through Water for Women, Australia is investing AUD118.9m to deliver 33 water, sanitation and hygiene (WASH) projects and research initiatives, which aim to directly benefit 2.9 million people in 15 countries across South Asia, South East Asia and the Pacific.