An ally: A boy not ashamed to promote menstrual hygiene management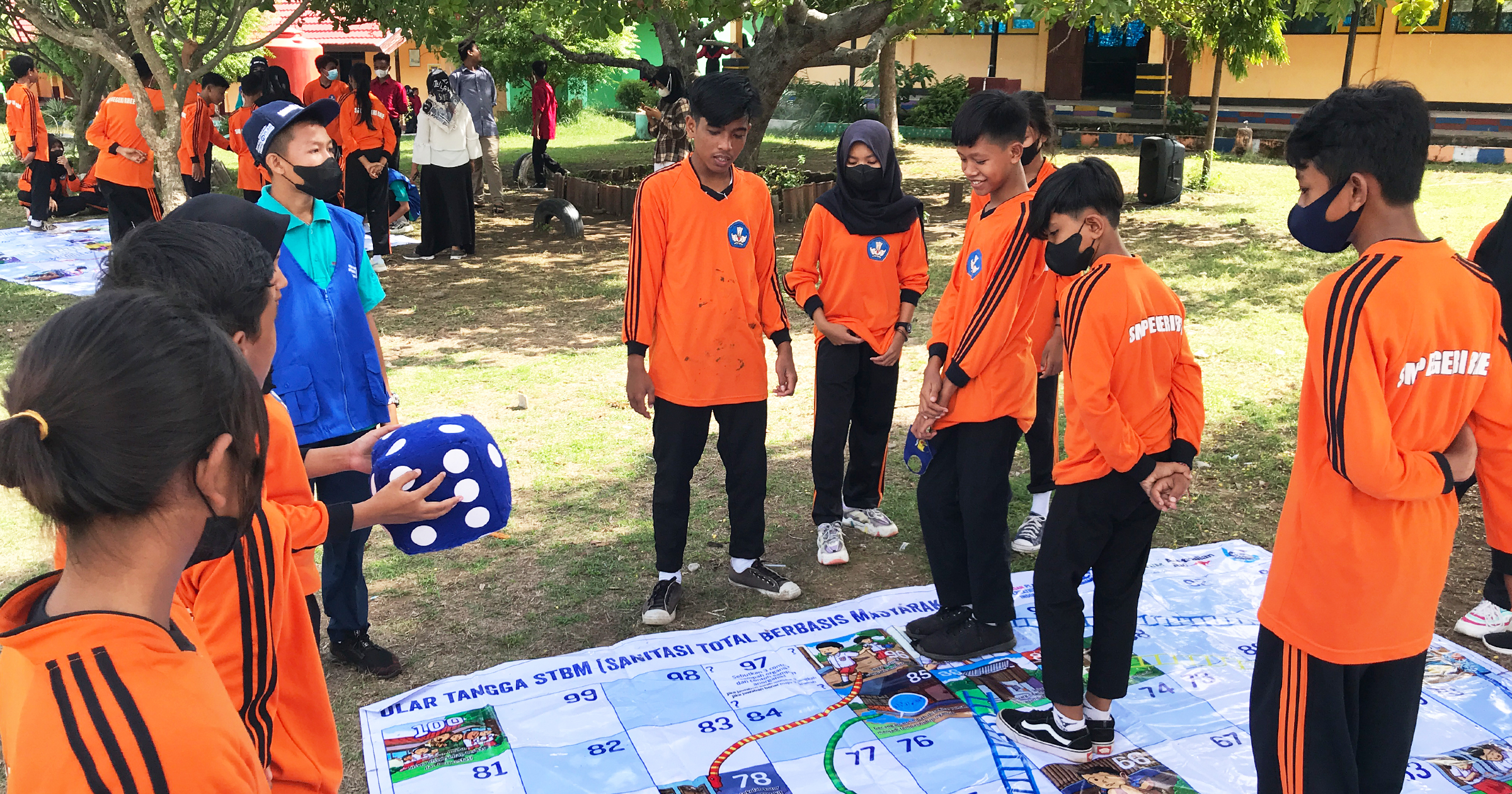 Wahyu (in blue) is proud to have shared important health information and believes that menstrual hygiene management (MHM) education needs to be carried out from an early age, because menstruation is still considered taboo in Indonesia, even among female students. (Yayasan Plan International Indonesia / Silvia Devina)
For Wahyu, being head of the Youth Red Cross (PMR) and Sanitation Peer Educators at his school in Sumbawa, Indonesia, will always be a fond memory of his school days. He is proud to have shared important health information and believes that menstrual hygiene management (MHM) education needs to be carried out from an early age, because menstruation is still considered taboo in Indonesia, even among female students.
Supported by Australia, Water for Women partners Plan International Australia and Yayasan Plan International Indonesia have been tackling taboos in Indonesia by engaging boys like Wahyu as allies through WASH in Schools (WinS) programs that include a strong focus on MHM, as part of the WASH and Beyond: Transforming Lives in Eastern Indonesia project and the extended Climate-Resilient and Inclusive WASH.
When Wahyu was invited to become a peer educator, he was very enthusiastic. As one of 80 boys and girls from 20 schools to participate in the training, Wahyu learnt about Sanitasi Total Berbasis Masyarakat (STBM), and menstruation as a natural process, as well as important skills for being a peer facilitator in his school.
STBM is Indonesia's five-pillar approach to achieving 'total sanitation,' which includes WinS considerations and MHM. The training helped to provide practical examples for good hygiene behaviors as well as theoretical information to students.

From poverty reduction and stronger economies to healthier populations and better educational outcomes, the benefits of investing in Menstrual Health and Hygiene are far-reaching.
"After participating in STBM and menstrual hygiene management training, I always try to apply the knowledge gained in everyday life. I also feel more confident to share the knowledge I get," said Wahyu.
Support from schoolteachers and the school principal also helped him to carry out tasks as a peer educator, with Wahyu and other peer educators routinely conducting STBM and MHM campaigns fortnightly in each class during break times and facilitating 'Clean Friday,' an activity that involves students working together to clean the school environment.
"When doing counseling, my friends are always enthusiastic about participating and answering questions properly and correctly. After participating in the activity, my friends became aware of the importance of maintaining cleanliness and health. Many of my friends immediately practice how to wash their hands and female friends understand when to change sanitary napkins," Wahyu added.
Now having graduated from school, Wahyu remains an advocate for current campaign methods, which integrate 'software' and 'hardware' approaches. These include games and the distribution of child-friendly promotion materials – examples of 'software' which contribute to shifting stigma and taboos – along with the provision of handwashing facilities with soap and inclusive and MHM-friendly toilets – 'hardware' – ensuring holistic, long-term and sustainable solutions.
Plan International has worked closely with Indonesia's Ministry of Education and Culture and the Ministry of Health (MoH) on the mainstreaming of MHH into the National School Health Program. After supporting the MoH to develop national guidance for STBM-MHH implementation in schools, Plan International trialled a module in two targeted schools, including with children with disabilities.
WASH and Beyond: Transforming Lives in Eastern Indonesia was one of 20 Water for Women WASH projects implemented by civil society organisation partners from 2018 to 2022 during the initial phase of the Fund. Building on this project, Water for Women is proud to again partner with Plan International Australia and partners in Indonesia from 2023-2024 to deliver Climate Resilient and Inclusive WASH for more than 223,000 people in Nusa Tenggara Timur and Nusa Tenggara Barat provinces.
---
To celebrate #MHDay2023, we have launched our latest publication
Making menstruation a normal part of life is creating a world where no woman, girl or person is held back because they menstruate.
From poverty reduction and stronger economies to healthier populations and better educational outcomes, the benefits of investing in Menstrual Health and Hygiene (MHH) are far-reaching.
On Menstrual Hygiene Day - 28th May - and every day, we are committed to #PeriodAction.
Together with our partners, we are working to ensure sustainable MHH solutions through water, sanitation and hygiene (WASH) projects across the Asia Pacific region. We are transforming WASH systems to empower women, girls and gender diverse people, including those with disabilities, by shifting stigma and harmful norms, and strengthening access to menstrual hygiene-friendly sanitation services and products—so that periods can be managed safely and with dignity.
No login? Please enter your details below to continue.